H.J.C Brown
British Lions Rugby International & Great Britain Olympian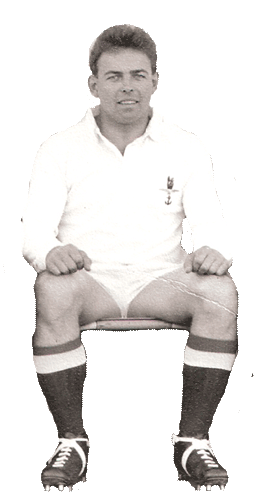 A sunny afternoon at Twickenham, rugby's headquarters, in 1963 during the second half of the Calcutta cup match between England and Scotland, still, in these days of professionalism that most charismatic of fixtures. There are other matches of course, which claim a greater importance, notably the tri-nations series in the southern hemisphere between South Africa, Australia and New Zealand, but of all rugby's annual meetings, infused as it is with the inherent and unique charm of the six nations, it is the Calcutta cup that stands apart.
A scrum near the right hand touchline saw England win possession and the ball spun to the English fly half Richard Sharp. The next 20 seconds saw Sharp enshrined forever in Twickenham folk law.
A deft show of the ball to his centre before slicing majestically through the Scottish inside backs to take him clear, and up to the Scottish full back with a man spare on his outside. Here, we thought was going to be a superb try for England's left wing, only for Sharp to hold the ball back with a delightful dummy and swerve, and cross unopposed half way out.
It was an English try that has been recalled often with a wistful nostalgia given to few in Twickenham's history. Among others, one thinks of the impossibly romantic Russian prince, Alex Obolensky, on England's right wing, crossing diagonally from one touch line to the other to score against New Zealand in 1936, and Andy Hancock's meandering run from deep within his own territory in the last minute of injury time to rob Scotland in 1965, but for the panache of its execution, and its sheer mesmeric beauty it is surely Sharp's that is the best.
Twickenham, then of course was the bastion of amateurism, and rugby at the highest level in its officialdom and infrastructure was still clinging largely to being the preserve of the public schools.
God was in his heaven, and all was well with the world therefore, when Sharp, charming and articulate with flaxen hair flowing and reading geography at Oxford made his memorable mark. He was, it seemed rather fittingly, given the eras prevailing mindset the right type of man to score a splendid try at headquarters.
In Time and the Conway 's, J.B Priestley writes of those seminal moments, some seemingly unimportant, which, given the juxtaposition of place, time and circumstance can change ones life and destiny. Such a moment was Sharp's at Twickenham and its indirect impact on John Brown, destined to be Sharp's replacement on the British Lions tour to South Africa in 1962.
It was Browns misfortune, in place, time and circumstance, to be around when Sharp and others were playing at their best, and to be injured at one of those moments, when he was worthy and capable of playing for his country.
H.J.C as he was to become affectionately known was born on the 4th December 1935 and first gained junior representative honours for England Schools against Wales at Cardiff Arms Park in 1953. Others honours followed, for Somerset , before he captained St. Luke's College Exeter in 1958. In 1959 he joined Blackheath, still in this day and age an establishment of Corinthian values and the most famous and historic of names, who share with Guy's Hospital and Neath the honour of being one of the games oldest clubs.
Brown had become one of the most gifted and robust young centre three quarters in the English game. He had joined the RAF in 1960 and continued his rugby career with appearances for the combined services before joining the Harlequins in 1963. In 1962 he had toured South Wales with the Barbarians on their Easter tour, a long established and fondly remembered tradition that was a cornerstone of the amateur days and famed for its lavish hospitality.
On each Good Friday they played Penarth, then Cardiff on the Saturday and Swansea on Easter Monday before finishing with Newport on the Tuesday and then recovering both physically and mentally from their exertions.
It was one of those seminal moments, before a trial match for England which was to prove the undoing of Browns dream of playing for his country. He had scored two memorable tries at Banbury in the first of the trials and was selected for the second at Exeter, after which it was confidently expected that he would be awarded the cap that many Englishmen believed was rightfully his, only for his ankle to be broken whilst playing for Middlesex, the county of his birth, against Surrey some weeks before.
Undaunted, he recovered and pursued his career with enthusiasm, to be rewarded later by being called up as a replacement for Richard Sharp his bête noire, on the 1962 British Isles tour to South Africa during which he made six appearances, typified by the wholehearted approach which had become his hallmark.
It is to his eternal credit that, as his rugby career entered its twilight years, his resilience and determination was to lead him to represent his country in another sport, requiring another discipline.
HJC, now flight lieutenant, had become a parachute instructor at Aldershot, and had previously met, as a colleague in the RAF, a fellow officer called Mike Freeman who was a leading figure in the British winter Olympic bobsleigh teams preparation for the 1968 event in Grenoble, and who saw in Brown, a man whom he considered to be ideal in build and temperament for the physical demands required in forging a successful team. Thus it was, that Brown, after many months of training and dedication took his place in the British four-man bobsleigh team for the European championships at St. Moritz in 1968 in which they won the bronze medal, the highest position ever attained by a British four-man bobsleigh team, before he competed at that pinnacle of sporting endeavour, the Olympics at Grenoble in the winter of that year.
HJC Brown will remember his sporting life with justifiable pride, and we can only imagine that sometimes, like each of us, he will lie awake in the darkness of the small hours and take stock.
In the armed forces he had served his country with honour and dignity. In rugby it was one of those seminal moments of fate, so redolent of Priestley, and not form, the bitch goddess which had betrayed him, and he never did play for his beloved England, but he had represented this nation with distinction, at the highest level in two different sports, an honour achieved by very few.
John sadly passed away on 30 March 2019