The Greatest Games ever played.............
Barbarians 23 - New Zealand 11, 27th January 1973
This was a match that will live in the minds of many as the greatest rugby match there ever was. Myself included ! I was only aged 12, I was with 3 schoolmates and we were late getting into the ground, we had South Enclosure tickets and being quite small we managed to squeeze our way up onto the steps coming down from the South Stand for a view of the match. This was my first visit to the Arms Park for a major fixture and I couldn't believe how jam packed the actual stadium was. The game had already started so we settled ourselves down on the steps, I looked up to see the All Black winger Bryan Williams kick ahead and Phil Bennett picked up the ball in his own 25, he started sidestepping All Blacks and the rest is history, with Edwards scoring in the corner right under our noses. Watching a playback of that try still makes the hairs on the back of my neck stand up, even after about the 200th + time, this happens at the same point every time, just before Bryan Williams kicks the ball. If you shut your eyes at this point and listen not to Cliff Morgan but only to the crowd, you get the feeling of what it was like to be there, turn up the volume to full at this point and hear the general crowd noise, then on Benny beating two players, you have the first roar, then 5 different higher levels of 'roaring' ending with Edwards in the corner. An incredible thing to witness and something I'll never forget......
Dai Richards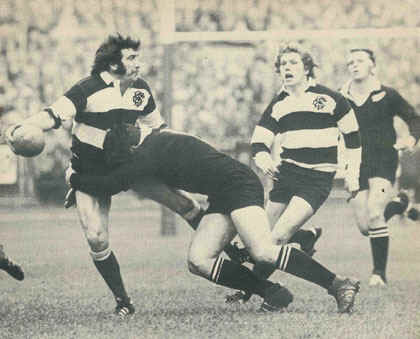 above - Tom David about to offload to Quinnell
Cliff Morgan's commentary of the 'try'
'This is great stuff... Phil Bennett covering ..……ch ch chased by Alistair Scown... brilliant... Ooooh, that's brilliant! John Williams, Bryan Williams ...Pullin, John Dawes ...Great dummy! ...David, T Tom David ...the half way line ...Brilliant by Quinnell! This is Gareth Edwards! ...A dramatic start! ...what a score!
Video clip courtesy of the BBC
........but this try was not the only highlight of the game, what was nearly the second greatest try but for a forward pass would have been scored by John Dawes. In a move started by JPR Williams, a quick switch with David Duckham who's run is one of the most breathtaking ever seen, in this run he executed a sidestep and a simultaneous dummy followed by a change of pace that left the New Zealanders wide eyed in astonishment. The move includes a deft chip for the corner by Derek Quinnell which was charged down into the hands of a grateful Gareth Edwards, the move ended with John Dawes catching the ball with his fingertips and falling over the line and in the words of Cliff Morgan "brilliant......but.... but....but.... it was forward" ............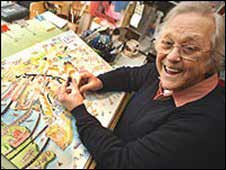 Another person I suspect who was overawed with the occasion was Gren (1934 - 2007) the South Wales Echo cartoonist. Wales' most famous rugby artist. He was awarded the MBE for his services to the newspaper industry and was voted best provincial cartoonist in Britain 4 times between 1983 & 1987. His fellow cartoonist Bill Tidy said of him..................
"I was a great admirer of Gren. To me he was a Max Boyce on paper and a Harry Secombe in humour. He raised a large amount of money for charity, he was crazy on rugby and was the only Welshman I'd ever met who sang out of tune deliberately. He had his finger on the pulse of Wales."
...................We have in the museum a collection of original caricatures by Gren of the Barbarian players and of five of the All Blacks in opposition that day, Gren ! Pictured below are the caricatures by Gren of 14 of the Barbarians from that day, these truly are classics !!!!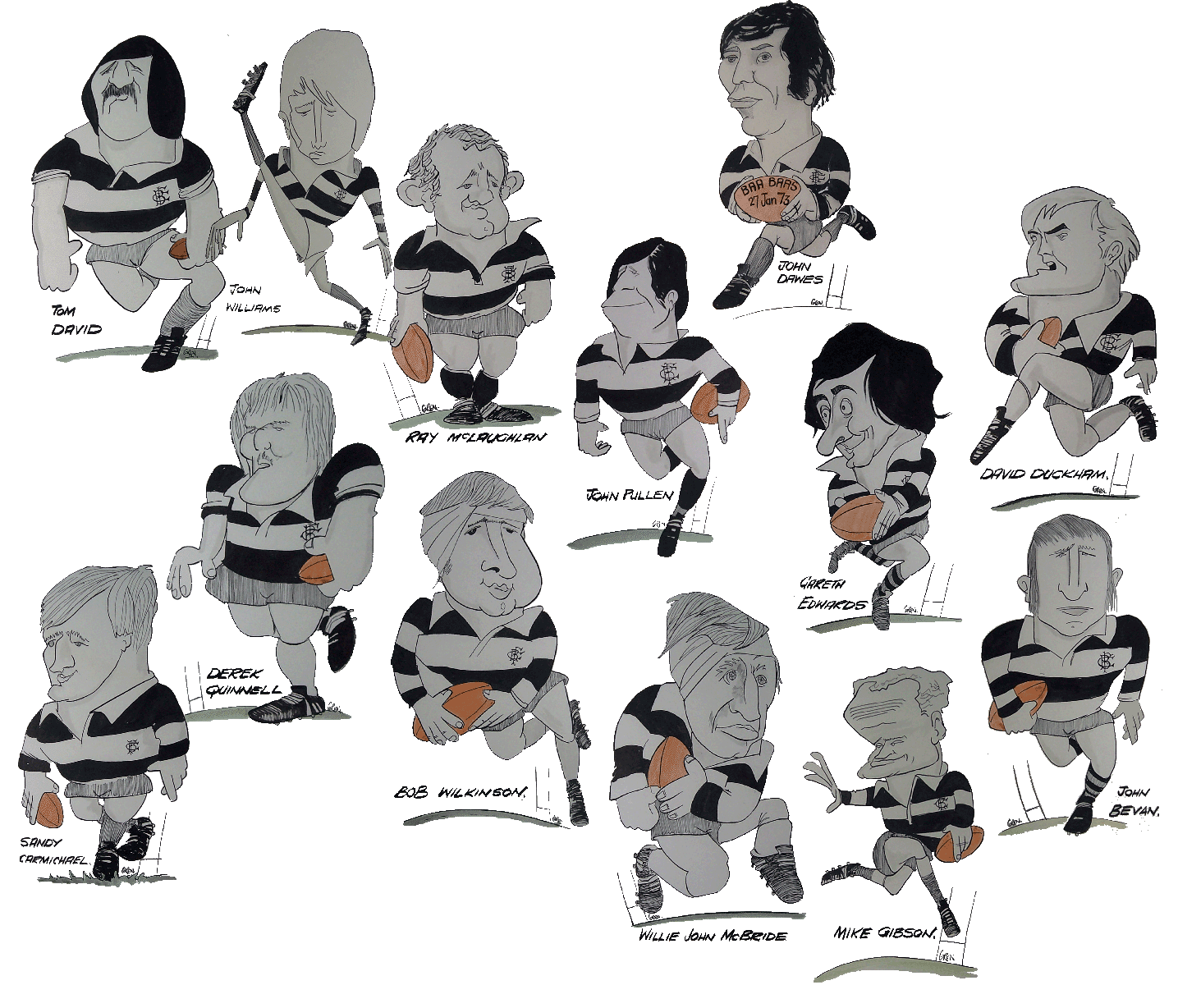 Phil where are you ?
Missing from the collection, location unknown is that sidestepping genius from Llanelli, Phil Bennett !
If you know where Phil is please email us with his whereabouts
CLICK HERE TO EMAIL THE WORLD RUGBY MUSEUM
******
There are 5 All Blacks in the collection including the fiery Grant Batty, Gren's portrayal of this great All Black winger is nothing short of genius !

THE LUCK OF THE IRISH..............
John Kinsella from New Ross, Co Wexford was at the game, he takes up the story................................
We were on holiday in Wales and had been over the Brecon Beacons, Burry Port, Kidwelly & Abergavenny and I had a bugger of a toothache for several days, I phoned several dentists to see if any could help. I got one in Abergavenny provided I could make it before 9.00am & I did. The dentist asked if I was going to the game and I said no as i couldn't get a ticket. He asked if I would go if I could get one and i said I would do jail for one ! He left the surgery for a few minutes, came back and said "here's 2, we were to go but our child is not well and we are not going, have these on me and enjoy it. It was almost surreal but bloody great !!!!
We will be adding our memorabilia collection relating to this game soon, please come back and visit again. Do you have any personal recollections of this match, send us your story please !
... ...