The Francis Family of Neath
James Francis Rees was born James Francis in Neath on the 23rd Feb of 1890 to Francis Francis and Elizabeth Jones at No 4 Jones Court Neath, which was somewhere near Wind Street. In 1891 we find the family at the above address. Francis was a tin smelter born in Neath on the16th of February 1861at James St and one month later on the 1861 census living at 29 The Latt which is where Safeway's car park is now situated.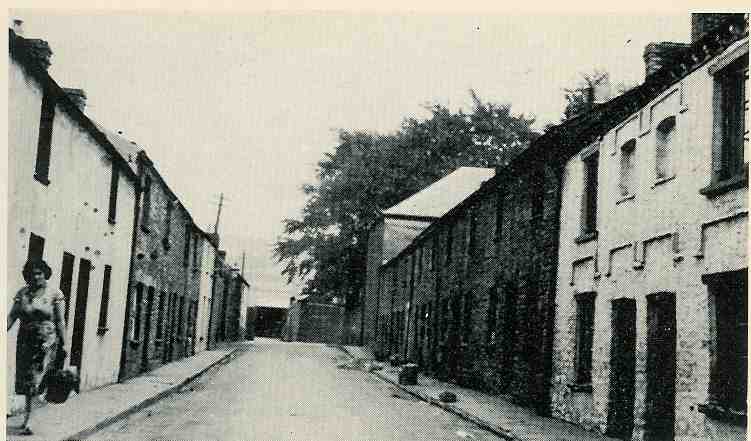 The Latt - with 'The Friends Meeting House' on far right - this building is still there today

Francis married Elizabeth Jones (b1860) on the 25 Dec. of 1883 ( Merry Christmas) and they had four children, namely Thomas John Francis b1885, Amelia Francis b1886, Francis Francis b1888, and the youngest James. In 1901 the three oldest children are found in the union cottage homes in Bryncoch, Blaenhonddan, and James living with William John Rees, b1865 Cadoxton and his wife Sarah Jane, b1866 Maesteg, at 22 Main rd Catwg (Cadoxton). James now Francis Rees is down as cousin to William and also there is Anne Rees aged 5 down as a cousin. I have not established that they were first cousins.

In trying to establish why James was adopted, I have found the death of an Elizabeth Francis (wife of Francis Francis) on the sixteenth of January 1893 of Puerperal Fever (a fever following childbirth and caused by uterine infection), registered in Neath aged 33 which seems to tie in, and the death of a Francis Francis in Swansea in Dec 1897 aged 36.

The Jones Family

 Elizabeth 's parents were John Jones a gardener b1816 in Llantrisant, Monmouthshire. (two censuses give his birth 1811 and another two 1816) John is found in Neath in 1841 lodging with Samuel Lewis a tailor at 23a London Rd. John married Elizabeth and they are found at Water St. in 1851 with their three children, David b1846, Jennet b1849 and Margaret b1850. By 1861 the family has grown with James1854, Mary b1856, Zephaniah b1857, and Elizabeth b1860 all living at Mexico Rd. which off Wind Street . In 1871 they are still at Mexico Row No13 with the addition of Lucy b1864, Elizabeth the wife is employed in butchery. When we look for them in 1881 the family is scattered, John is dead, Elizabeth a travelling vegetable saleswomen, Lucy is living with Zephaniah and his new wife Eliza at 57 Windsor rd. and Elizabeth is a servant to her sister Mary and her husband John Thomas (a Butcher) at 53 Windsor Rd. from where Elizabeth is married in 1883. At the same time Bemjamin Snow and family are at 55 Windsor Rd. (Gertrude's great uncle.)

The Francis Family

James married Gertrude Mabel Snow in the Sept Qtr of 1909 and they had six children, Vida, Phylis, Olga, Marion, Maldwyn and Harold.

Going further back James's father Francis was born in 1861 to Thomas Francis bc1834 in Neath or Neath Abbey and Margaret Thomas bc1839.  Thomas was an iron moulder and also ran the White Lion at 10 Cattle street Neath in 1881. They were married on Dec 23rd 1855 at St Thomas's parish Church and had at least 11 children, Jenkin b1858, Francis, Sarah J, Elizabeth, William, Margaret, Martha, Lucy A, Thomas, Jessie, and the youngest, Harriet b1881. They were at No. 2 Cattle Street in 1871. Thomas may have died aged 55 in Neath in the Sept Qtr 1889, and Margaret in the March Qtr of 1890.

In 1891 Margaret junior is found with the younger children (and no sign of Thomas and Margaret), at 52 Water St where she is a general servant and niece to the head John Hill b1837 Neath a collier. Is Margeret the mother called Margaret Hill? No!

The Thomas Family

On the marriage certificate of Thomas and Margaret we find that Margaret's father John Thomas was a carpenter, which helps us find the right John Thomas in the 1851 census. We find John b1809 in Neath and his wife Margaret b1807 Neath at Union Road with their children, Sarah b1834, Margaret b1838, David b1841, John b1844, Elizabeth b1846 and Leyshon b1850. In 1841 they are at 22 Wind Street . In1861 we find them in "The Merra" in Neath (by Water St) and Shem is added to the family b 1854, but Sarah and Margaret gone probably both married.

The Mera & The Latt was housing put up by Sir Humphrey Mackworth to accommodate the increase in population from the opening of his mines in the Gnoll area during the late 17th and early 18th centuries. The common land known as the Mera was transformed into Victoria Gardens in 1896-7.

Going back another generation Thomas Francis's father was also Thomas b 1808 in Cadoxton, also a moulder, his mother was Elizabeth Griffith b1808 Cadoxton. They had 10 children,

Elizabeth b1827, Francis1829. Jane 1831, Thomas1834, Margaret 1835, Mary 1838,William 1841, Catherine1843, Sarah1844, Martha 1850, They lived in James Street in Neath in 1841,  and in the Latt in 1851 and 1861.