EXHIBITION HOME - World Rugby Museum Home - Rugby in the town of Neath - RUGBY RELICS HOME
Women's Rugby

WOMEN'S RUGBY
Women's rugby gained popularity in the 1970s and has snowballed ever since into a highly organised self governed sport. The first women's rugby international match was played in Hilversum, Holland in 1982 where the home side were defeated 4 – 0 by France .
In Britain, the Women's Rugby Football Union was formed in 1986. This governing body had its roots in
England
but it played its matches as Great Britain
and drew its players from the four home countries. The GB side was soon disbanded in favour of the individual countries and within twelve months Wales were playing
England
at Pontypool
Park. Women's rugby now has its own Six Nations Tournament and is well reported and supported by the media and Rugby Unions. The next women's world cup takes place later this year in
Canada
where the reigning champions
New Zealand
are favourites to defend their title.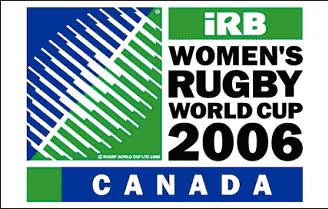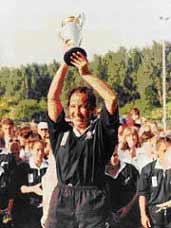 Col Philip Trevor in his book "Rugby Football" dated 1923 opens with the chapter "The Game's Popularity – Rugger For Girls". His daughters who were in various stages of 'flapperdom' (a 1920s term for the modern & unconventional woman) in 1913 called him to a conference. The end result being that they and a bunch of friends trooped of to a secluded beach for a game of rugger, 15 a-side with more players available if the need arose. Col Trevor who acted as referee marveled at the skills of the girls and described how they improvised with kit, by wearing bathing hats to lessen the chance of being 'tackled' by the hair. Back chat and foul language was all part and parcel of rugby according to one girl who had watched the men play at Blackheath. The author queried that if they could find 30 girls in a village then how many would there be in the whole of England ?

(WRM-0061)

jersey

Women's Rugby Football Union, the first governing body of the sport in Britain, the Union was disbanded in 1994 so that the Home Unions could play as individual countries. This jersey was worn by Delyth Morgan the Welsh international. (WRM-0323)
Programmes from women's international rugby matches
England v France

(WRM-0324)

23 Feb 1997
Northampton
England v Wales

(WRM-0325)

12 Feb 1989
Moseley
Italy v Holland

(WRM-0326)

1993
Wales v England

(WRM-0327)

11 Feb 1990
Neath
Wales v England

(WRM-0328)

9 Feb 1992
Wales v England

(WRM-0329)

9 Mar 1997
Llanelli
Wales v Ireland

(WRM-0330)

21 Feb 1999
Llanelli
European Champs in Italy

(WRM-0331)

1999
22nd February 2006 - STOP PRESS……………………
...................Mel Makes 50 Against Ireland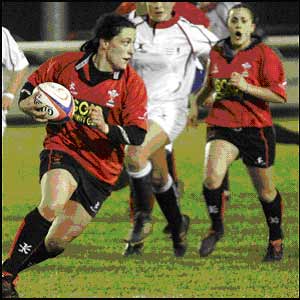 In Saturday's Six Nations fixture against
Ireland
(Donnybrook,
kick off),
Wales
Captain Mel Berry will receive her 50th cap, joining an elite band of female players. Since picking up her first cap in 1998, coincidentally against the Irish in
Ireland
, Swansea-born
Berry
has been a regular feature in the starting line-up, first skippering
Wales
at the tender age of 20.
THE RUGBY WORLD CUP
The first Women's Rugby World Cup Final was held at
Cardiff
Arms
Park
in 1991. The
USA
were victorious over England, 19 – 6.
GO FORWARD TO NEXT CASE - CLICK HERE
... ...
EXHIBITION HOME - World Rugby Museum Home - Rugby in the town of Neath - RUGBY RELICS HOME