THE PIONEERS
The first Snow family recorded in Neath was in the 1841 census. It was the family of William Snow (b. 1804) from Devon, he was living at Pentwyn but by 1851 he had moved out of the area to to Cefn Cribbwr (his descendants are still living in the Bridgend area).
In 1851 census also turned up a Benjamin Snow (b1832 in Burlescombe Devon) lodging in Melincourt. Benjamin was the first of our branch of the Snow family that we can pinpoint as actually belonging. He had come here to work on the railway. The only other Snow in Neath at the time was George Snow a labourer (b1830 in West Down Devon) no relation to Benjamin, and he was lodging at Mile End Row, Melin, Neath. He settled in Neath and married Mary from Neath, and they had one son William (b 1856), they moved to 24 King St., but William who was a print compositor married Sarah and lived in Osborne St, they had three daughters, so the Snow name was not carried on in Neath through this family.
By 1861 Benjamin had encouraged his older brother Thomas Snow (b 1827 in West Leigh, Burlescombe Devon), to come to work on the Railway as a plate layer in Neath. Their father James Snow (b1787 in Clayhanger, Devon), died in June 1859 near West Leigh in the parish of Burlescombe on the dairy farm where he lived and worked. The farm was then run by the youngest son Francis, therefore Thomas could have then come to Neath looking for work. If he did come then he did not waste much time as he married Elizabeth Guy ten years his younger in June 1860 and according to 1861 census they already had their first child John James, aged 6 mths. in Sept or Oct 1860. (Registered in the Oct, Nov,Dec Qtr 1860 11a 401.) Possibly Thomas may have come to Neath before his fatherís death which is why Francis, as the younger son took on the role of head of the household ?
THE SETTLERS
Both Benjamin and Thomas settled in Neath and brought up their families. They were both brought up in a dairy farm near West Leigh in the parish of Burlescombe, which is on the border with Somerset, with their eight other brothers and sisters. Thomas was not particularly good at geography as he was not sure where he was born as on two different census forms he named two different locations, Wellington, Somerset (1871) and West Lee (1881), Somerset.
Their motherís name was Susana and she died of consumption (Tuberculosis TB) in the dairy house in the Marles near West Leigh on June 1840 aged 50, most likely caught from the cows. We have been unable to find a marriage for them in the Devon indexes so her surname is not known. The youngest son Francis took over the farm and the rest of the family scattered throughout Devon, Somerset and Wales .
James Snow was born in Clayhanger, another parish right on the border with Somerset, to William Snow and Jane Yelland and had six other brothers and sisters. William died in 1795 but no age was given unlike his wife Jane who died on 26 April 1828 aged 79. The only marriage in the Devon and Somerset indexes thatís matches is on the 22nd Aug 1774 in the parish of Cruwys Morchard which is not far from Clayhanger. One mystery is that in the entry of William Snowís death at Clayhanger is he was entered as William Snow Senr., but I have not been able to find the existence of a William Snow Jnr. In Cruwys Morchard we find Janeís baptism on 11th June 1751 to William Yelland and Jane, and that is as far as we have got tracing the family backwards !
Thanks to James Muir for the above info !
January 2012 - Hats off to Kay Smith, gt gt granddaughter of Thomas Benjamin Snow (1863-1903) who has researched the Snow family tree (through the Yelland line) back another 6 generations to the birth of Edmund Medland, born 1538, Jacobstowe, Devon.
CLICK HERE TO SEE THE TREE TO EDMUND MEDLAND 1538
April 2012 - Well done again to Kay, her research on the tree has taken it back on the Snow line to William Snow born about 1520 in Devon. To avoid confusion the link below shows only the generations prior to William Snow (1740) & Jane Yelland who were married in 1774. To see the generations after these please click on the above Edmund Medland link.
CLICK HERE TO SEE THE SNOW FAMILY TREE 1520 - 1740
Thomas & Elizabeth (Guy) Snow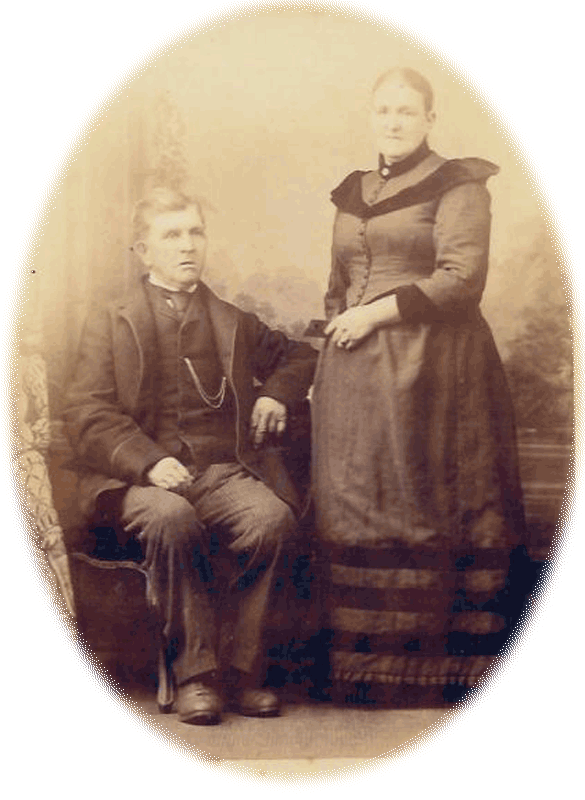 Thomas was born in 1827 and baptised at Burlescombe Parish church in Devon on the 8th of April.1827. His father was James Snow a dairyman from near West Leigh and his mother was Susanna. Thomas moved to Wales between 1851 and 1861 leaving the farm to work for the Vale of Neath Railway which was at the time was under construction at that time under construction by the great engineer Isambard Kingdom Brunel.) He worked as a platelayer.
Plate layers were trackmen. The term dates back to the earliest days of the railways when they were known as plateways and were built using short sections of iron bar or angle sections, rather than the rails we know today. A plate layer would be responsible for all aspects of track maintenance such as replacing worn out rails or rotten sleepers, packing to ensure a level track, weeding and clearance of the drains etc.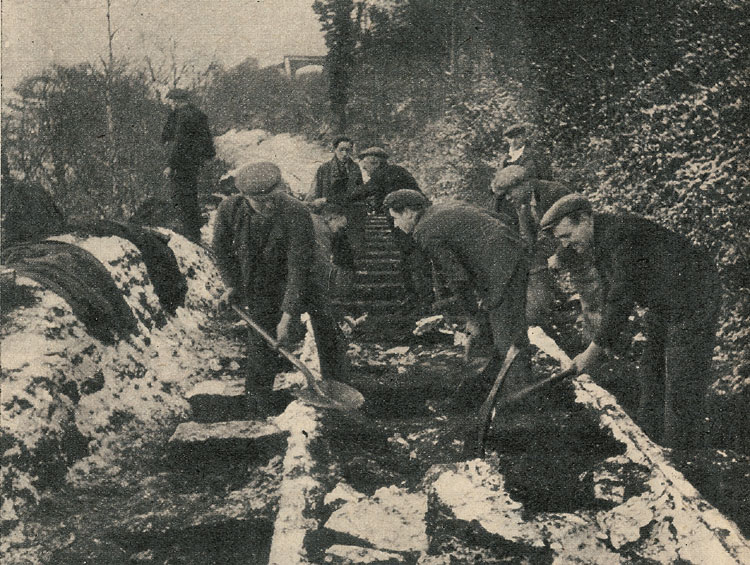 Platelayers at work on the Vale of Neath Railway, circa 1920s
In 1861 Thomas was living we find him with his wife Elizabeth Guy from Neath and their first son John James age 6mths. living at 8 Pump Row in Cwmdare near Aberdare. In these days Aberdare and Neath were connected by the Vale of Neath railway so it was a short hop on the train from the Dare Valley junction in Aberdare to Neath, a journey of approximately 18 miles. (Another notable personality associated with this railway was Alfred Russell-Wallace who worked as a surveyor on the project. He was responsible with Charles Darwin although Darwin later claimed all the credit for the theory of Evolution). Thomas and Elizabeth were married in Neath at the registry office on the 19th of June 1860, when Thomas puts his age as 29. He was in fact 34. In the 1861 and 1871 census he again understates his age but comes clean in the 81 and 91 census. Elizabeth was not much better as she give her age as 21 (age of consent ) when in fact she was only 19. She was most likely pregnant at the time as their first child John was born in about Sept./ Oct 1860, so they married without consent from Elizabethís parents as none of the family acted as witnesses.
By 1871 Thomas and Elizabeth had returned to Neath living at No 30 the Latt, a 'slum area which was eventually knocked down, it's location what where the current day Morrison's car park is now situated. Thomas' occupation was now a general labourer so must have left the railway, and they had added Thomas Benjamin aged 8 and William Henry aged 5 to the family.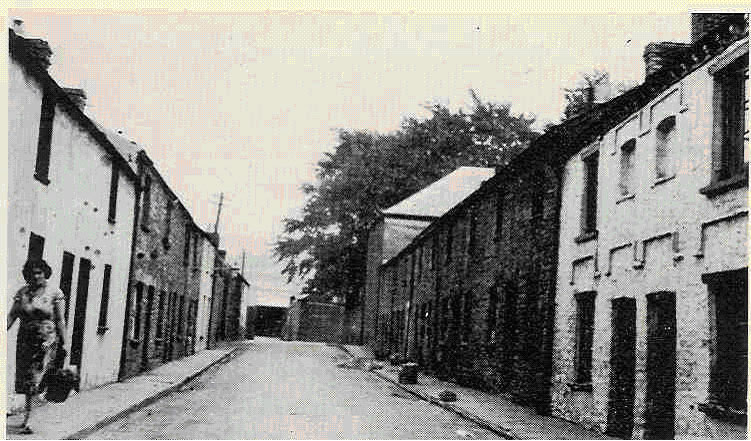 The Latt - with 'The Friends Meeting House' on far right - this building is still there today
In 1881 we find the family living at 12 Briton Ferry Rd. near Stockhamís corner and David Guy Snow aged 7 is an addition to the family. There exists a record of a David Guy Snow buried on the 10th of January 1870 aged 3 days at St Thomasís Church Neath. Was this a child they lost before the above mentioned David Guy born in 1874?
It probably was, it was common practice in the late 1800's, where infant mortality was common, to give children the same name until one survived long enough to call the name it's own.
In 1891 we find Thomas and Elizabeth at 4 Golden Court which is now Southgate St just off Britton Ferry Rd, and next door to them at No 3 was Thomas Benjamin Snow, his son and family. Thomas is still a labourer and David is the only son still living with them, he is also listed as a labourer.
It was around this time that we think Thomas went into the building business probably with three of his stone mason sons, John, William & Thomas. He is credited with having built Victoria Gardens for Neath Corporation and donating the Italian marble gates at the entrance to the park. the Park however was officially opened 2 years after his death, one year after it's completition. CLICK HERE FOR THE HISTORY OF VICTORIA GARDENS, NEATH . We think that Thomas, the elder statesman of the family may have been the figurehead and the possibly the backer for the operation with John and William the driving force behind the business. It's very probable that a big split occurred between the brothers because William eventually moved on to join forces with a Mr Grant to build another business, for more on these brothers please see below.
Thomas died in 1896 and was buried at St. Thomasís Church, Neath on the11th of May 1896.
In 1901 Elizabeth Snow was still at Golden Court. and her niece Mary Ann Mohan who was born in America was living with her, most likely her younger sister Ann Guy Ďs daughter.
John James Snow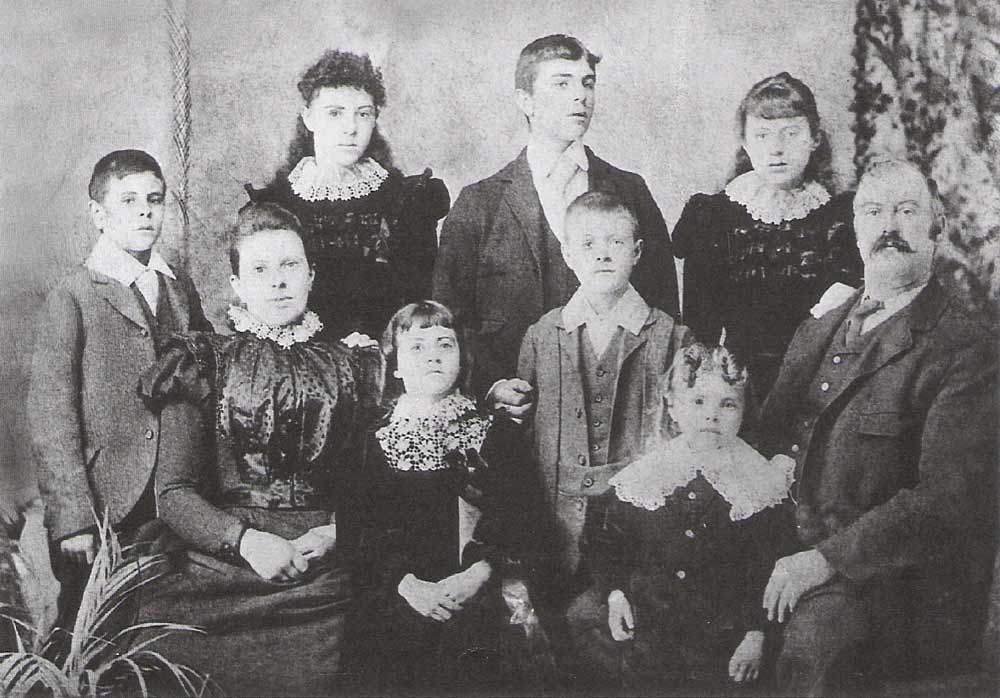 John was born in Neath in Oct 1860 the first son of Thomas and Elizabeth. He moved with his parents to Cwmdare by 1861 and was back in Neath at The Latt in 1871. He obtained an apprenticeship as a stonemason along with his brothers Thomas and William and we can see this in the 1881 census when he is 20. He had a busy ten years to 1891 when he then lived at 22 King St. having married Sophia Evans (b1862 in Bryncoch) and fathering five children (John, Elizabeth, Esther, Henry, and Thomas), he was still employed as a Mason.
In the 1901 census we find John and family still at 22 King St. by now John is a builder working on his own account, and young John a stone mason. The family has grown with Gladys and Sydney being added to the family. However Elizabeth aged 17( born March Qtr 1884 reg Pg 11a661) is now using her middle name Rhoda and employed as a dressmaker, Henry is employed as a carpenter and using his middle name Guy (after his Grandmother), and Thomas is using his middle name William. John due to his English heritage could not speak welsh neither could the children but Sophia from Blaen-honddan, Bryncoch, Neath could speak both Welsh and English.
There is an entry in Kellyís Trade directory in the early 1900ís for a builder John Snow at Orchard St Neath.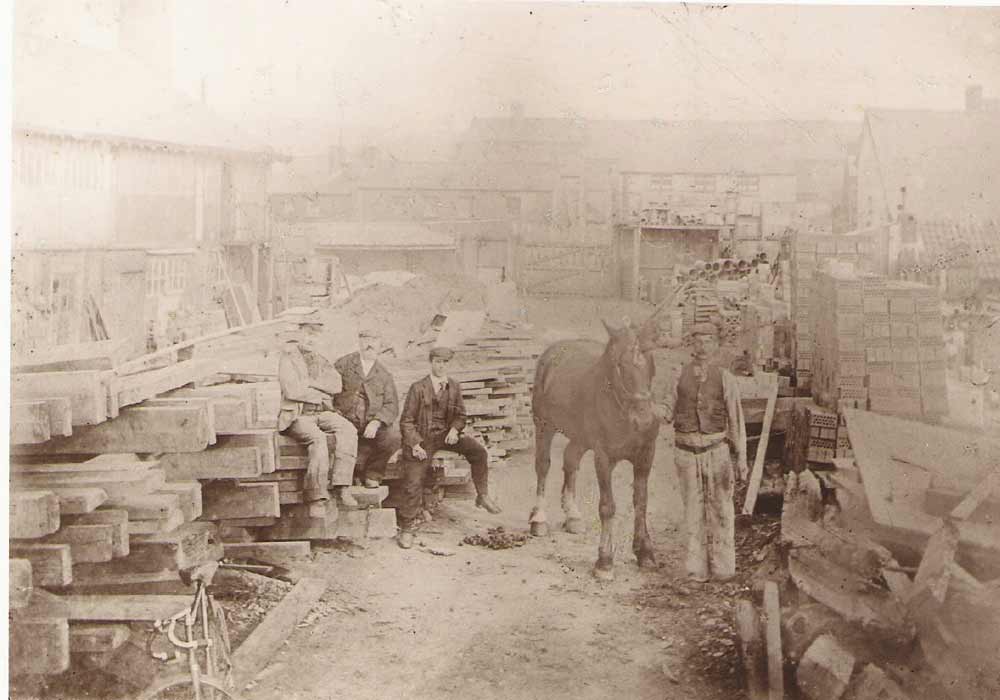 Snow's builder's yard date unknown possibly early 1890s with John in the centre seated and possibly to his right his dad Thomas, but more likely this photo is of a later date.
Evans Family.
Sophia Evans was born in Bryncoch most likely at Pentwyn which is just off the Duffryn Rd. Her father Henry was born in Trelech Carmarthenshire in 1833 and was employed as a coal miner, and his wife Esther was born in 1828 at Abernant, Carmarthenshire, which is not too far from Trelech. They had six children Hannah, Mary, John, Sophia, Daniel and Henry and lived in Bryncoch.
John Snow ( the Younger)
John Snow was called Jack and ended up a butcher in Neath and changed his name to Evans by deed poll in 1940 which was his motherís own name. He was born in 1883 in Neath and by 1901 was a stonemason. He married Bessie Rees on 17 Nov 1901 at the Neath Registry office, at the age of 19 and Bessie was 25 and living at The Gatehouse Neath. Their son Lesley John Snow was born on the 8th July 1903 at Eastland Rd. Neath. I have no information about any other children. Lesley married Beatrice Howells in 1926.
Thomas Benjamin Snow
Thomas Benjamin the second son of Thomas and Elizabeth was born in Neath in 1863 and like his brothers trained to be a stonemason, but by 1891 he was an engine driver and living next door to his parents at No. 3 Golden Court Neath. He was married to Mary Jane (Hughes born c1863 from Abersychan, Monmouth) and had two daughters Elsie and Eliza.

Two other children followed in later years, Elizabeth (1894-1982) and Thomas John Snow. (1897-1918). We know from a grave stone in Llantwit cemetery that Thomas B. Snow died in 1903 aged 43 and his only son Thomas John Snow died from wounds he suffered during WWI aged just 21. Mary Jane died at the age of 68 in 1930.

The photograph illustrated left and right we believe to be Thomas Benjamin & Mary Jane around the time of their marriage 1884. We can't be 100% sure, the photos form part of the collection of their third child Elizabeth 'Lizzie' and are unmarked but their age and circumstance leads us to believe that they are her parents. There is also a similarity with a later known photo of Mary Jane (see photo 9 below). Please see below for other photos left by Lizzie......
Photo 1

Elsie & Eliza Snow

2

TJ & Elizabeth Snow

3

Lizzie Snow & Tom Williams

4
4a

Eliza Ann Snow circa 1908

Thanks to Richard Biggs, grandson of Elizabeth Snow (photo2 right) for the photos and info supplied below.

Photo 1 Elsie and Eliza Ann Snow Circa 1905-06 I seem to remember that Elsie had an injury to her left eye and in the photo you can just about see the the left eyelid is drooping. I can remember going to see Elsie with my grandmother in Gorseinon

Photo 2 Thomas John Snow and Elizabeth Snow Circa 1909. My grandmother evidently had a close relationship with her young brother. When she died we found a small silk wallet 6''x4'' containing the photo in uniform. Also included were 6 small notes written in pencil which Tom had written to his sister ''Lizzie'' from his hospital bed in France . They made heart rending reading. He worries about how he is going to earn his living as his leg has been amputated. He asks for chocolate and comforts to be sent to him and in his last note say that he cant write any more as the pain and tiredness are too much. He never did make it back to Neath.

Photo 3 Elizabeth ''Lizzie'' Snow (1894-1982) and Evan Thomas ''Tom'' Williams (1892-1975 ) in 1912 This is my grandmother aged 18 with her childhood sweetheart who were married in Jan 1914 when she was 20. They had 2 children, Iris (1914-2002) my mother, and Ralph.(1926-1995) Tom was a fishmonger who had a business- Tom Williams and Son 120, Windsor Rd Neath. They lived in Dyfed Rd for nearly all their lives where I was born. Tom survived the war without any injury winning the Military Medal, possibly at Ypres

Photo 4 & Photo 5 Unknown subjects. Looking at the originals they were obviously taken at the same time. The photos are by Williams & Williams of Swansea circa 1885-1901

Photo 4a - Eliza Anne Snow circa 1908 - known in the family as Annie

Photo 6 & 7 Unknown couple again taken at the same time as 4&5. We have no ideas who they are. They look younger don't they. The photos are by Williams & Williams of Swansea circa 1895-1899

Photo 8 Unknown. Faded and difficult to see any great detail. Taken some years before the others. The photo is by A&G Taylor of Swansea circa 1886+

Photo 9 - 1918 - Lizzie Williams, Mary Jane Snow & Iris Williams

5
6
7
8
9

1918 - Lizzie Williams, Mary Jane Snow & Iris Williams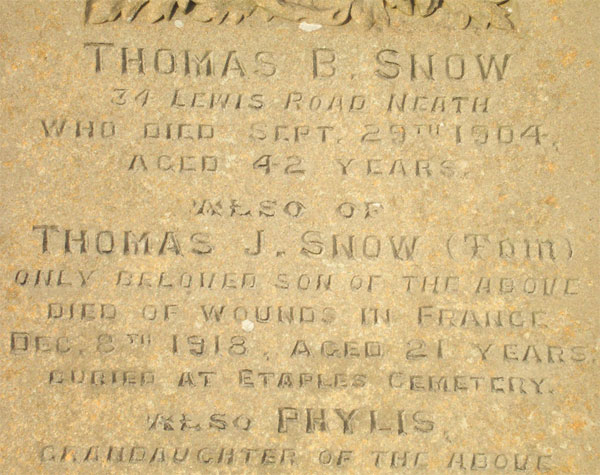 Thomas B Snow's gravestone, Llantwit Cemetery, Neath
THOMAS J SNOW (1897 - 1918)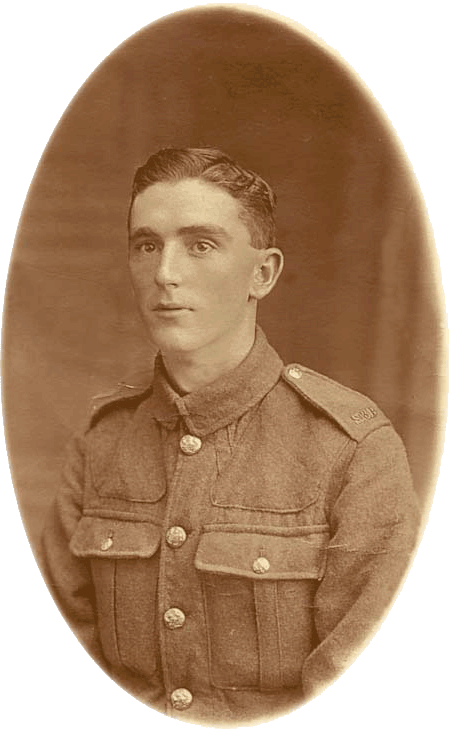 (Photo supplied by Richard Biggs, great nephew of Thomas John Snow)
Tom Snow made the ultimate sacrifice for his country when he died of wounds received in the First World War. The armistice was agreed for the 11th November 1918 and Tom died on the 7th December. Tom lived at no. 34 Lewis Rd. with his mother Mary Jane (Hughes). He is mentioned on the family gravestone in Llantwit Cemetery and buried in Etaples Military Cemetery in France.
Illustrated left is the British War medal 1914-18 issued to the family of Tom Snow. these medals were for men who served in an overseas theatre of war between 5th August 1914 and 11th November 1918. Tom's rank name and regiment at the time of enlistment are impressed on the rim.

49232 PTE TJ SNOW - S WALES BORD
Illustrated below are a letter from Neath Council to the family requesting information about Tom. The information was requested in 1924 for use on the Memorial Gates located at the entrance to the Gnoll country park. The reply is from Tom's mother Mary Jane Snow who supplies his army number (58453) and regiment (14th Battalion Welch Regiment)
Both illustrations above have been supplied by Jonathan Skidmore (Thanks Jonathan), author of the soon to be published "Neath, 1914-1918 War Memorial" book honouring the fallen of Neath. Jonathan is looking for a photographs of any other Neath men who gave their lives in WWI. If you can help, please email photos or info to me, see link below and I will pass them on to Jonathan.
Thomas J Snow's grave, Etaples Military Cemetery, France
narrative and photos supplied by Kay Smith (gt gt granddaughter of Thomas B Snow)

Elsie May Snow (-1963, daughter of Thomas B Snow) married Francis Henry Bendle of Skewen, and had five children, Florence Emily (my grandmother), May, Olwyn Phyllis May & John. They were living in Coedfranc when Elsie left her husband and children, my grandmother nursed her father (FH Bendle) until his death in 1922 and continued to look after the children. From all accounts my gt grandmother (Elsie) was a bit of a lass. I can vaguely remember her and we called her "Mam Gorsienon" as that is where she went to live. She was blind in one eye. Whenever she had a headache, (and I believe she suffered greatly with them) she would rub 4711 Eau de Cologne into her forehead, the story goes that she spilled some on her forehead, which ran into her eye, blinding her. I remember her wearing glasses and whenever I saw Martha Longhurst in the snug on Coronation Street , I always thought of 'Mam G' as she looked just like her in her later years. She also had small a holding in Gorseinon, kept pigs and had a vegetable plot, a very resilient, self sufficient and hard working lady. I think we could learn a lot from her.

Elsie May Snow

(1885 - 1963)

Flossie, May

Olwen, John

children of Elsie May Snow

Florence Emily

(1904 - 1969)
William Henry Snow
William the third son of Thomas and Elizabeth was born in Neath in 1866 and was apprenticed as a stone mason like his brothers and was the one that stayed in the trade establishing one of the best known and respected Building Companies in Neath. In 1881 he was working as a masonís labourer and by 1891 was a mason, and living with his young family at 107 Clifton Terr. Neath. He married Margaret Harris aged 18 on the 22 May 1886 at the Neath Registry Office, and their witnesses were his brother Thomas and his wife Mary Jane. In 1901 he was living with his ever increasing family,( 9, the youngest being Vincent aged 1) at 15 Eva Street Neath. He was now working on his own account and had started his building business. William and Margaret had 22 children of which 13 survived to adulthood, and all the boys went into the building business and eventually successfully took over the running of the company but sadly the company went bankrupt in the mid 1970s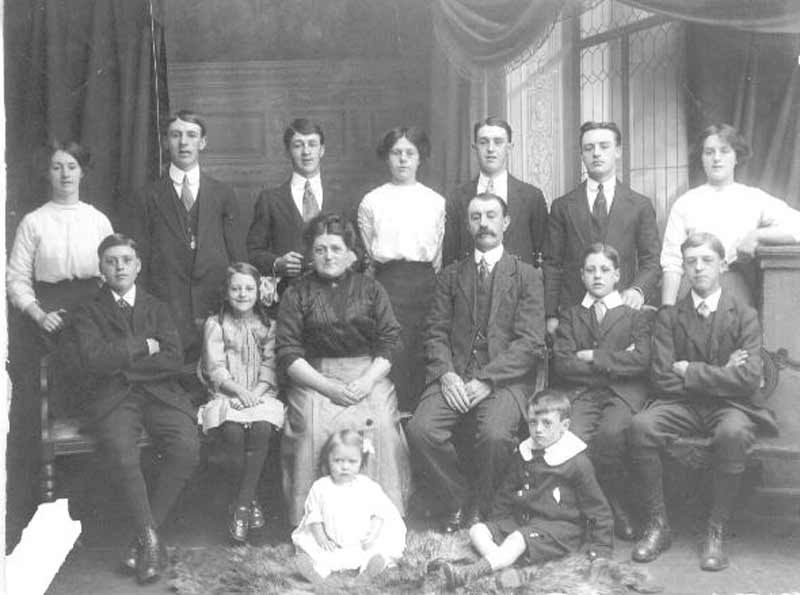 The Snow family 1913
Back Row:- Gertrude, William , Herbert, Martha, Clifford, Edgar, Ethyl.
Front Row:- Vincent, Flossie, Margaret Harris, William Henry, Lawson, Harold
Floor:- Doreen, George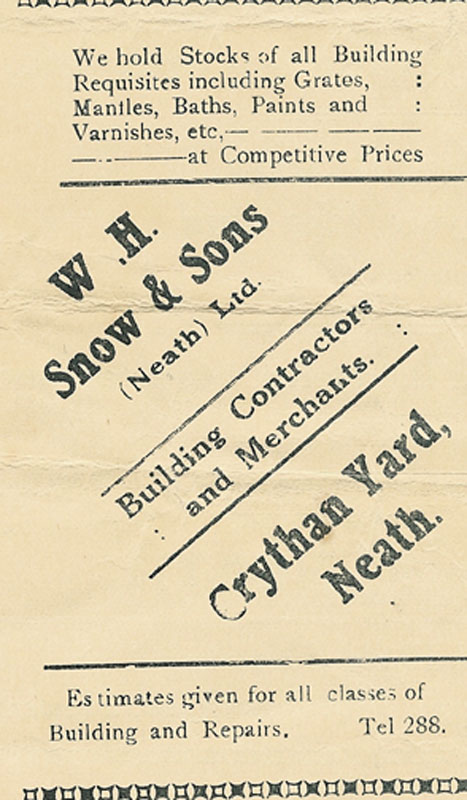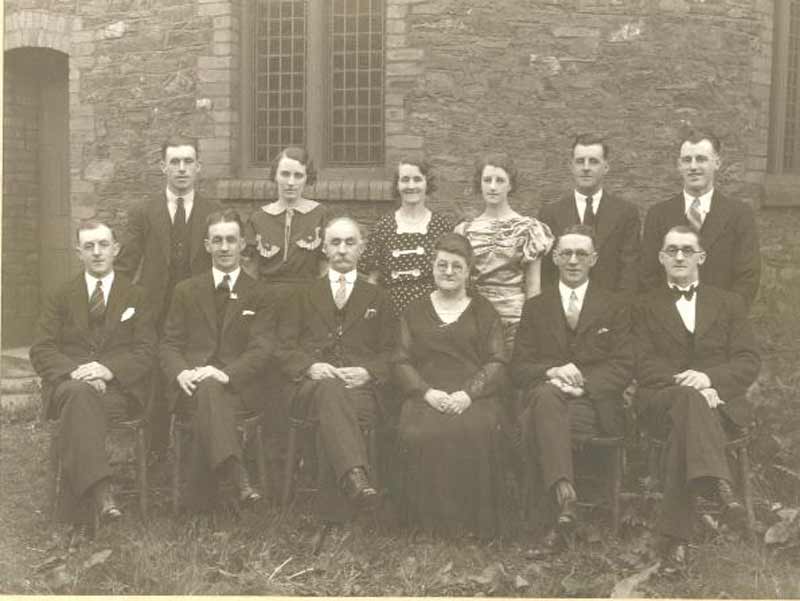 William & Margaret Golden wedding photo at Neath Mission 1936

Back row:- Vincent, Doreen, Gertrude( Gertie), Flossie, Lawson, George

Front Row:- Harold, Herbert, W.H.S, Margaret ( Harris), William, Cliff.

CLICK HERE FOR MORE INFORMATION AND PHOTOS

OF WILLIAM HENRY SNOW AND HIS DESCENDANTS

including

The FRANCIS-REES family of Neath
The Guy family
The Guy family become connected to the Snows when Thomas married Elizabeth Guy on the 19th June 1860, when Elizabeth was 19 although at the time she said she was 21 (on the marriage certificate).
Her Father was John Guy a Gas man who was born in Llangennith in the Gower in 1779 which made him 62 when Elizabeth was born in 1841 in Neath. It took a while to work out the true facts about John because in the 1851 census the index stated he was 35 the same age as his then wife Elizabeth Thomas , which seemed very plausible. When I found Elizabeth with a much older man in the 1841 census I thought it was Johnís father while in fact it was the same person. His age in 1851 should have been stated as 72, I have not seen the original document to determine who made the mistake.
John and Elizabeth were married on the 23 rd of Nov. 1836 at St Thomas's Neath, and had four children only two of which survived that was Elizabeth and her sister Ann (b 1845 in Neath). In 1841 they were living at 29 James Street Neath and John was a gas fitter and Elizabeth was 6 mths. In 1851 they were living in Gold St. in Neath and John was a superintendent in the gas works, Elizabeth was 10 and Anne was 6.
In 1861 we find the find them living in the Latt in Neath and John is a Smith aged 88 , Elizabeth his wife is 48 and Ann is 17 and a dressmaker. John died shortly after this census age stated as 84 and was buried at St Thomas on 4th may 1861, probably with his first wife Margaret Jones. Johnís true age is best gauged from his baptism in Llangennith parish on the 12 may 1779. I do not know what happened to Elizabeth and her daughter Ann after that, they may have moved to America as in 1901 Elizabeth (Guy) Snow, Elizabethís older daughter has her niece living with her Mary Ann Mohan who was born in America.
John's first marriage was with Margaret Jones, they tied the knot at St. Maryís in Swansea on the 25 Feb. 1811 , I have found two children to this marriage, Henry b1811 and Richard b1815, both in Swansea . Margaret died in Neath in January 1834 and was buried at St Thomas at the age of 51. Richard moved to Neath with his family and married Mary Hopkin in 1836 two years after his mother died, they had five children and Richard followed his fatherís footsteps as a gas fitter
In the Llangennith parish records we find Johnís Parents were Richard 1751-1818 and Elizabeth and Richardís parents were Thomas Guy ?-1781 and Ann Morgan 1709-1783.
We also find Annís parents were Richard Morgan and Elizabeth Batcock married on the 12 July 1700 , so they were born in the 1600s. I wonder what life was like in the Gower then ?
© James Muir 2007