CAREER INFORMATION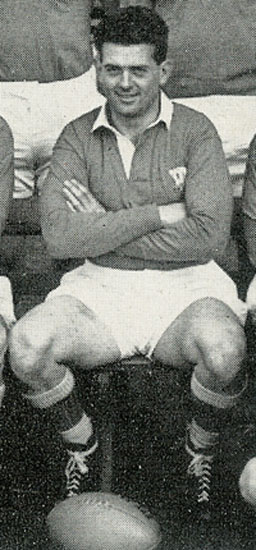 Capped appearances for Wales
1947 v England, (1 try), Scotland (letter N), France & Ireland
1948 v Ireland
1949 v Scotland (letter N), Ireland & France
1951 v France & South Africa (No 11)
1952 v England, Scotland (No 11), Ireland (No 11) (1 try) & France (No 11)
1953 v England, Scotland (No 11), Ireland (vice capt. No. 12), France & New Zealand (No 11)
1954 v England & Ireland (capt. No. 12)
1955 v England (No 11), Scotland (1 con) (No 14), Ireland (capt. No. 14) & France
1956 v Scotland (No 12), Ireland ( No. 12) & France
1957 v England (No 12), Scotland (No 12), Ireland (capt. No. 11) & France (No 12)
Rees was selected as captain against Scotland 30th January 1954 but this match was postponed, he retained his captaincy for the match against Ireland on March 13 and was selected again as captain against France on 27th March, he withdrew from this match with a neck injury and failed to regain his place for the re-arranged match against Scotland on April 10th.
Wales changed the numbering system in 1950 from letters (a = full back to O = back row row) to numbers (1 = full back to 15 = back row)
Uncapped appearances for Wales
4 victory internationals (inc v Scotland 2 Feb 1946)
v International XV 1957 (capt. No. 11)
BRITISH LIONS
14 appearances for the British Lions during the 1950 tour of Australia & New Zealand,
1 appearance for a British Lions XV against Wales in the WRU 75th anniversary match (against a Welsh XV)
BARBARIANS
Rees was first elected to play for the Barbarians in 1947, he played against 2 major tourists, South Africa 1952 & New Zealand 1954 and was also a committee member.