The shopping cart on this website is a secure payment method and is powered by Paypal, one of the world's leading on-line banks.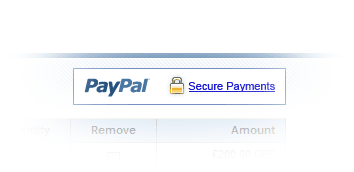 To purchase items from the website click on the 'add to cart' buttons next to each item and when you are ready to finalise your order click on the 'proceed to checkout' button in your cart. You may click on the 'View Cart' buttons at any time to see how your order is progressing or if you need to increase quantities or remove items from the cart.
Most items on the website have a payment button however, if the item or item/s you wish to purchase do not have an 'add to cart' button please request an on-line invoice' for these by emailing us or call 01639 729000 (from overseas +44 1639 729000) and order over the telephone with a credit card.
Alternately you can total the items you would like to purchase and use the add to cart amount buttons below to pay the correct amount.
You will then need to email us with a list of the items that you require.
CLICK HERE TO SEND AN EMAIL TO RUGBY RELICS